University admission achievement
Lectures are delivered by teachers with rich Japanese teaching experiences, comprehensive and put-into-place guidance is offered for enrollment, and the entrance examination of Japanese University course and postgraduate entrance examination course are offered.
(Our college has the recommended admission mechanism, the students with a satisfactory attitude and the attendance rate above 95% could be recommended to the designated universities for further study without taking entrance examinations.)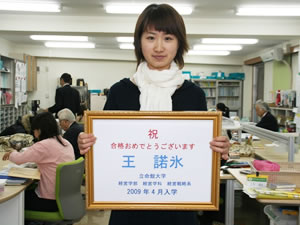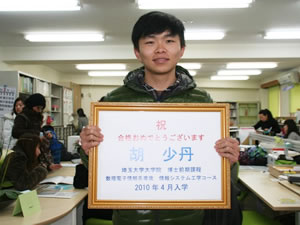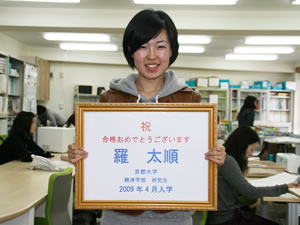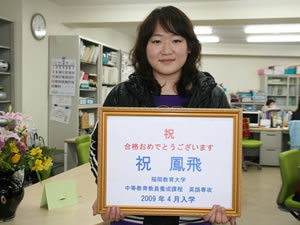 The enrollment rate of our students by higher level university is 100%, and there are many students going to
universities and graduate schools for further study every year.
Other Enrollments
Graduate
School

Graduate School of
Tokyo University
Graduate School of
Kyoto University
Graduate School of
Osaka University
Graduate School of
Waseda University
Graduate School of
Seinan Gakuin University
Graduate School of
Kyushu University
Graduate School of
Hokkaido University
Graduate School of
The University of Kitakyushu

Graduate School of
Keio University
Graduate School of
Kumamoto University
Graduate School of Nagasaki
Graduate School of Yamaguchi University
Graduate School of Fukuoka University
Graduate School of
Ochanomizu University
Graduate School of the University of Electro- Communications
Graduate School of Yokohama National University

Graduate School of Nagoya University
Graduate School of Tohoku University
Graduate School of Kyushu Institute of Technology
Graduate School of Shizuoka University
Graduate School of Fukui Prefectural University
Graduate School of Osaka City University
Graduate School of Shimonoseki City University

University
(National
university
& public
university)

Kyoto University
Tokyo University of
Foreign Studies
Kyushu University
Hiroshima University
Fukuoka Women's
University
Kyushu Institute of
Technology

Fukuoka Education
University
Kumamoto University
Nagasaki University
Hiroshima State University
Saga University
Osaka Prefecture
University

The University of
Kitakyushu
Shimonoseki City
University
Chiba University
Nagoya Institute of Technology
Otaru University of Commerce

University
(Private
university)

Keto University
Kwansei Gakuin
University
Seinan Gakuin
University
Fukuoka University
Kinki University
Kyushu Sangyo University
Asia University
Shumei University

Fukuoka International
University
Nihon University
Kurume University
Waseda University
Osaka Sangyo University
Beppu University
Tokyo University of Science, Yamaguchi
Osaka University of Economics and Law

Nakamura Gakuen University
Japan University of Economics
Kyushu Institute of Information Sciences
University of Human Environments
University of Marketing and Distribution Sciences